Home

/

PyGanic 3.78 Litre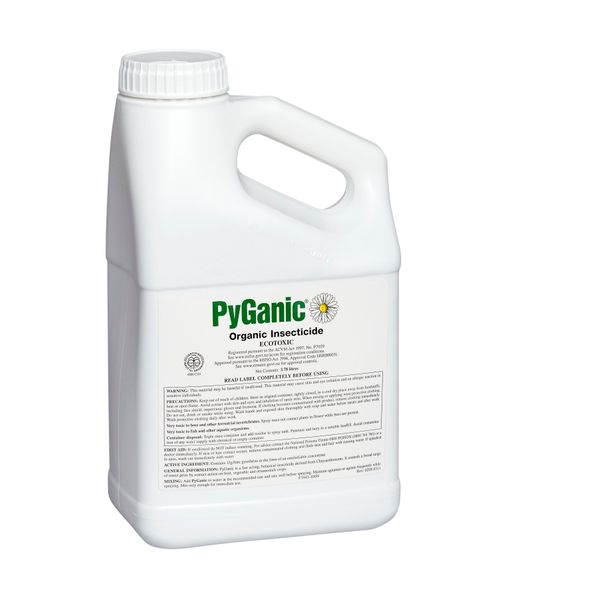 PyGanic 3.78 Litre
Description
BioGro Approved
Contains 13g / L pyrethrins in the form of an emulsifiable concentrate.
Pyganic is an organically certified insecticide using Pyrethrum sourced from naturally grown Pyrethrum flowers as its active ingredient. Pyganic is made in the U.S.A using a unique process engineered to produce organically compliant pyrethrum.
Mode of Action: Pyganic is a contact insecticide providing rapid knockdown and kill of insect pests within minutes of application.
Tips for Best Performance:
Buffer the pH of the Pyganic spray solution to 5.5-7.0
Application of the spray solution with a pH outside of this range may result in poor performance on target insects.
Pyganic is a contact insecticide
good coverage is key.
The amount of water used as a carrier has to be sufficient to achieve good coverage and contact of target insects.
Consider application in early morning, late evening or during the night. - Reduced UV exposure and lower temperatures will increase performance and reduce impact on pollinators.
Pyganic may be applied in conjunction with a spreader or wetting agent.
Field trials have shown the addition of the Nufilm-17® adjuvant may assist with the performance of pyrethrum insecticide by reducing the impact of UV exposure.
Do not mix Pyganic with lime sulphur, Bordeaux mixture or any alkaline materials. Pyganic may be tank mixed with other insecticides, fungicides, adjuvants and wetting agents. Prior to tank mixing conduct a small scale physical compatibility test using the proper proportions of products and water to ensure the physical compatibility of the mixture.
Beneficials: Pyganic is toxic to bees and other terrestrial invertebrates. Spray must not contact plants in flower while bees are present.
Pack Sizes: 3.78L, 200L
Downloads