Our Team know their Stuff!
The Key Industries team have the experience, skills and technical knowledge to give pest control advice to Pest Control agents, councils, businesses and public health entities, and will tailor IPMs or advise horticultural producers on how to maximise product effectiveness.
Key Industries is made up of three main teams – our nationwide Agriculture and Horticulture and Pest Control Sales Representatives division, our Warehouse Manager and our Head Office management and administration team based in Auckland. Wherever you are, we are keen to work with you to answer your pest control or ag-hort enquiries.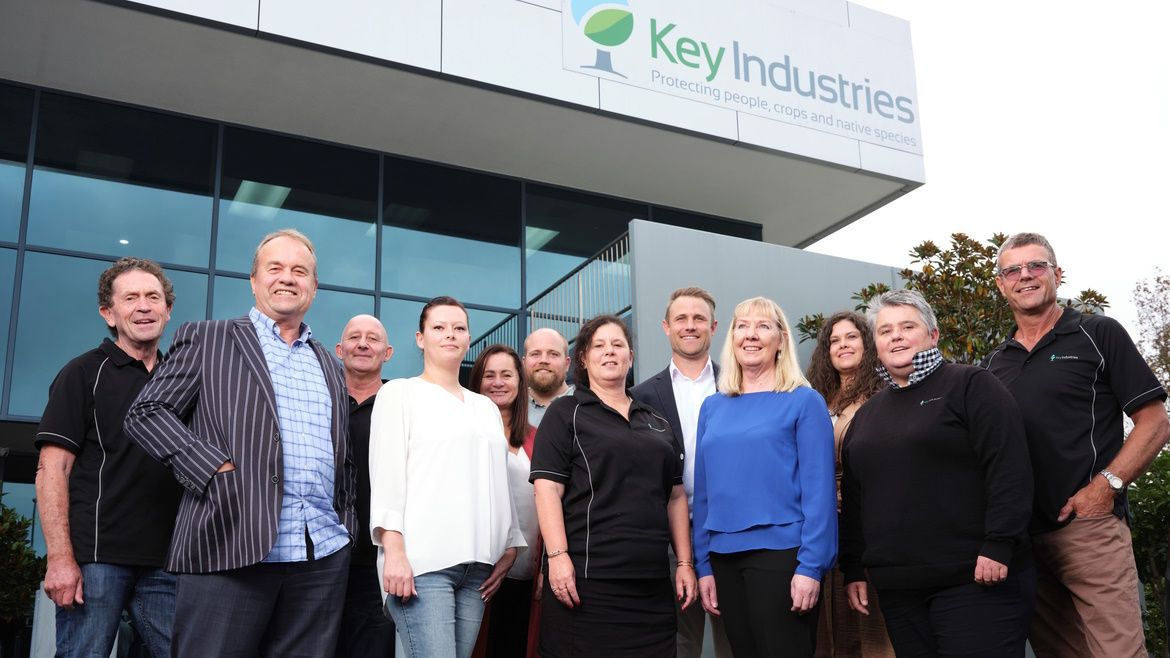 Key Industries Team
Frank Visser

- Managing Director -

Frank and Celia Visser purchased Key Industries in the year 2000. As Managing Director; Frank has been at the helm of the company for the last 21 years and is responsible for leading the significant growth that Key Industries has experienced in this time. Frank's specific focus has been on strategic direction, innovation, growth and in acquisitions of other Pest Control Companies that have added value to the overall Key Industries business.

With over 35 years' experience in the agrichemical industry Frank is deeply knowledgeable about both the history and future of ag-hort and pest control products, and is committed to best practice use of chemicals for maximum impact, with least harm. He is an ambassador for the Endangered Species Foundation and is passionate about the conservation of native species.

M: 027 494 1659

P: 09 917 1791

F: 09 917 1793

Gordon Grant

- Chief Financial Officer-

Gordon has been with Key Industries since 2018 and brings with him over 35 years of experience. Gordon is an integral part of keeping things humming, a great driver of change and has a keen eye for the finer details.

When Gordon is not in the office, you'll find him out on the grassy knolls trying to get that hole in one.

P: 09 917 1791

F: 09 917 1793

Andre Visser

- General Manager -

Andre's is Key Industries General Manager, responsible for Sales/Marketing and day to day operations. Andre's previous work experience includes Building and Construction management, Height Safety and prior to joining Key Industries he held several senior roles with Air New Zealand. Andre has a keen interest in several different sports from hunting, surfing and spearfishing, but if truth be told most of his time is taken up with his teenage family.

P: 09 917 1791

F: 09 917 1793

M: 021 821 417

Sharon Bracey

- Procurement Manager -

As Procurement Manager, Sharon is responsible for all things purchase related. Having joined Key Industries in 2018 Sharon brings with her a Manufacturing background with years of experience in Supply Chain and QA roles in the Agchem, Animal Health, Food, Pharmaceutical and FMCG Industries. In her spare time Sharon enjoys keeping fit and catching up with family and friends

P: 09 917 1791

F: 09 917 1793

Sue McTernan

- Accounts Receivable -

Sue is the main point of contact for all accounts receivable, invoicing and credit control enquiries and supports the customer service team. She brings many years of experience working in finance for large and small companies and enjoys working within a team. Outside of work Sue enjoys paddle boarding, netball, walking and spending time with her family and catching up with friends.

P: 09 917 1791

F: 09 917 1793

Sara Visser

- Accounts Payable -

Sara has worked behind the scenes for Key Industries looking after our website and e-newsletters and is now our Accounts Payable person. Sara's background is in Office Management and Accounts with 20 years behind her she brings an eye for detail, a thoroughness and enjoys working in a team environment. Sara's outside interests are fitness and living life with family and friends.

P: 09 917 1791

E: 09 917 1793

Ruth Maier

- Customer Contact Support -

Ruth is the lead person driving our fast-paced Customer Contact Environment, having joined Key Industries at the end of 2020 she brings with her a strong background in Customer Service, Project Management and Product Development. Outside of work Ruth enjoys travelling, art and spending time with family and friends.

P: 09 917 1791

F: 09 917 1793

Carlos Visser

- Customer Service/Stock Dispatch Representative -

Carlos has been apart of the Key Industries team since 2013, he brings a wealth of knowledge and years of experience to the customer service team, helping customers with technical product enquirers and processing orders. When Carlos isn't greeting customers at the door, he is in the warehouse packing and sending out customer orders. Out side of work Carlos is a family man and spends the majority of his free time raising his two girls.

P: 09 917 1791

F: 09 917 1793

Sales Representatives


Peter Visser

- Territory Manager South Island, Key Account & Technical Manager -

Residing in Nelson and employed by Key Industries in 2000 after an early career with the Department of Conservation, Peter represents Key Industries in the South Island. Previous to working at Key Industries, Peter was involved in the horticultural industry for 18 years. This was both as a supply company representative and at orchard management level.

Peter's interests include 'pretty much any' sports, tramping and chilling out with a cold beer. He has also represented Central Districts in Cricket.

M: 0274341944

P: 09 917 1791

F: 09 917 1793

Ian Clark

- Upper North Island, Key Account Manager & Technical Representative -

Ian has worked for Ecolab since 2011 holding various roles across the business from Key Account Management and Sales Development Manager along with 7 years hands on application experience as a Service Specialist in Pest Elimination for Ecolab and Rentokil.

Ian has experience across the whole scope of pest control and will be a great asset to the team having managed a large territory and key accounts with nationwide coverage.

When not at work Ian enjoys spending time with his young family, landscaping and working on his small lifestyle block.

M: 027 256 9440

P: 09 917 1791

F: 09 917 1793

Donna Daken

- Lower North Island, Key Account Manager & Technical Representative -

Donna has been involved in the retail horticulture sector for over 20 years. Donna has a passion for helping growers produce the best product they can offer the market, with a particular focus on vegetable production. Since joining Key Industries Donna has completed her Level 3 Urban Pest Management Certificate and become a qualified Fit Tester through the New Zealand Occupational Hygiene Society. In her spare time Donna enjoys travelling, watching the Hurricanes win and walking the dog on the beach.

M: 0272 423 140

P: 09 917 1791

F: 09 917 1793

Warren Wright

- North Island, Technical Sales Representative -

In 2019 Warren joined the team at Key Industries, bringing with him a lifelong history in the Ag/hort arena, including a strong background in both the Dairy and Maize Industry. In his spare time Warren loves a bit of adventure, riding and racing anything with two wheels.

M: 0272 118 947

P: 09 917 1791

F: 09 917 1793