For the control of flies on cattle and horses, lice and ticks on cattle; and ants, cockroaches, fleas, flies, mosquitoes, spiders in domestic, industrial and public health areas.
Active Ingredient
Contains 200g/litre cypermethrin in the form of an emulsion
200mls/ltr Cypermethrin
WC Formulation = Oil Emulsion dispersed in water – Contains no petroleum solvents
WC liquids have 40% less drift than EC formulations
WC has a low odour profile – less fumes
WC is kinder on equipment, surfaces and applicant
Low volatility, non flammable
Zeta sized particle - smaller particle means more contact opportunity and quick uptake.
Fully recyclable packaging through AgRecovery program
Application
Redact may be applied through spray races or by hand spraying. Redact has been approved for use on lactating dairy animals, but care should be taken to avoid direct contamination of milk with the product. DO NOT mix and apply with teat sprays during milking. Do NOT apply to lactating dairy animals after they have been milked. DO NOT spray onto the teats of lactating cows.
Redact comes in a convenient 1L HDPE pack with included measuring cylinder that is fully recyclable through Agrecovery. Redact is New Zealand made, thus supporting New Zealand business and reducing its carbon footprint.
Calf treated with Redact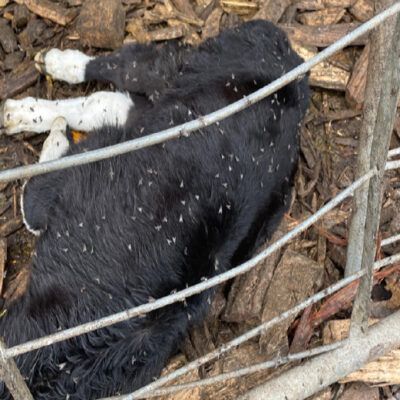 Calf treated with Redact
Safer for YOU, Kinder on your stock
Redact has been formulated to be extremely efficacious in the control of flies, lice and ticks on cattle and horses. Redact differs from other products in the delivery of its chemistry. We've gone away from using solvent based products to administer that chemistry. Redact is a water concentrate (WC) product utilising modern chemistry.
Redact is a new generation water based microemulsion formulation containing 200g/L Cypermethrin in the form of an emulsion. Unlike other available Cypermethrin products, Redact contains no Xylene and is non-flammable, reducing the risk to users and animals when handling the product and may be applied through spray races or by hand spraying. The WC formulation, with Zeta sized particles for more contact and faster uptake, achieves up to 40% less spray drift than comparable EC formulations.
Redact contains no Xylene, has a lower odour profile and is kinder on equipment and surfaces – making it much safer for not only the treated animals but the applicator and environment as well.
The photos below show the impact flies can have on calves/Cows and then shows application of redact and then the same calf after application.
Safer for YOU, Kinder on your horse
Flies are a big problem for horses out in the paddock, in the stable and when travelling in horse floats and trucks.
Redact is a new product that provides a "kinder" chemistry offering you a safer and friendlier alternative than current market products. 1L of this concentrated product goes a long way. Just add 5ml into a 1L spray bottle and spray directly on your horse's legs and body or spray onto the walls in your stables, floats and trucks to repel flies.
Please read application instructions prior to using.